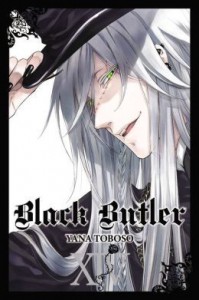 Depending on the arc, I'm finding I like volumes where multiple stories are told and there are jumps in time (including flashbacks) more than those that consist solely of the current arc's goings-on. That's part of what I enjoyed about Volume 14, which covers a flashback to the time when Ciel and Sebastian first began "working together," the completion of the current arc, Easter, and the beginning of the next arc.
It's fascinating seeing Ciel and Sebastian get to know one another and to learn that the latter wasn't always "one hell of a butler." It's also a reminder that, above all, he wants Ciel's soul and is ready to pounce if given the chance.
Undertaker is a lot more interesting, and Ronald Knox is growing on me. :) Can't wait for Undertaker to come back.
I have more Lizzie feels this time around given the events of the Easter Egg hunt. :(
AND the boarding school arc seems both obligatory but exciting!